Best Job Ever
Sometimes I can't believe that I am paid to tutor these girls. I almost feel like I should be the one paying them. Not only are they entertaining, but there have been countless times where I was super sad, but after an hour with them I couldn't stop smiling.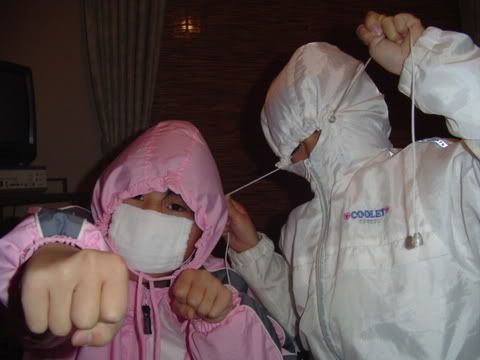 I have been tutoring Kotomi and Ikumi since I arrived in Japan a year and nine months ago. I meet with them once a week, and for a long time all we did was go through these simple English textbooks that their Mother had bought. That was, until the day we completed the last textbook in the highest level that the company made. From then on it was up to me to create my own lessons.


I started making the lessons for the girls under the assumption that because they are better at English than all of my High School students, I could use the same types of lessons on them. Those poor girls! They struggled through four lessons before I realized that, although they were capable of speaking High School level English, their Grade School minds were having a hard time getting through the lessons. I consulted my friends who teach at Grade School, but they said they mostly play games with the kids about colors, or simple vocabulary. These girls are way too smart for that kind of subject matter, so I had to come up with something else. Then I thought about my friend Joshua. He's also a JET, but the lessons that he talks about doing on his blog always humble and inspire me to do more with my kids.
So, lately I've been taking a different approach with the girls. Last week, we drew items in a treasure chest, and listed what they were in English. Then we hid the treasure chests in my apartment and made maps with directions to where they were. The week before that we created super heroes complete with illustrations and profiles of their strengths and weaknesses. Then I drew a picture of a house on fire with a woman and her baby trapped upstairs. I asked the girls how they were going to save them.


Ikumi. . .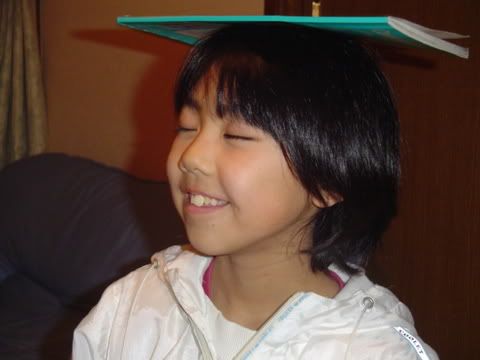 . . . had made Chokkato with his sidekick Chokkoto who could clap and make anything magically appear between his wings. He made a hose to put out the fire and then a ladder to rescue the mother and child.
Kotomi. . .


(Ordinarily, she isn't cross-eyed, I promise.)


. . . created a team of ball shaped Pen (Pen is short for penguin and is the girls' favorite Japanese character) First, all of the Pen flew at the house with different food items on skewers, and had a BBQ. After the Pen were fully nourished and energized, they stuck to each other and formed a bridge that went from the ground up to the window where the mother and child were trapped. After the mother and child had safely walked down the Pen bridge, the Pen set to work at eating the BBQ'd remains of the house.
(I called it a "yaki-ie" and the girls and I laughed until we were crying.)
These types of lessons have been way more fun for the girls and myself. As a result, we've gotten a lot closer, which leads to us being more comfortable around each other and therefore a lot sillier as well.
I love these girls.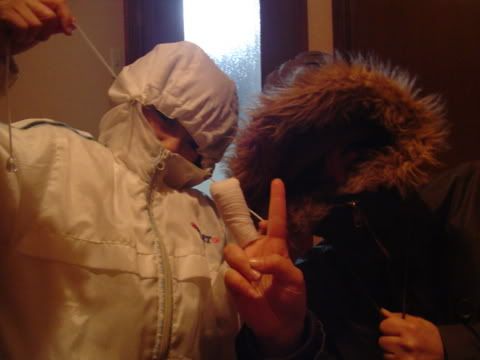 (Please take note of my finger.)
Yes, it has been nearly a week. Four trips to the clinic, and more antibiotics than I'd care to count later, and my finger is still messed up. On the second doctor's visit, he really did cut open my finger. Surprisingly, that wasn't the worst part. After cutting open my finger, he proceeded to squeeze and knead it for what felt like forever. He told me to come back in a few days, and when I did, it looked the exact same, only with a hole in it. I'm beginning to think that a white bandage covering my right middle finger is just a permanent part of my "new look", and am starting to accept it. On a more positive side, the finger bandage situation has provided much personal amusement with all the teachers giving me the finger, while saying "What is this?"