THE FUNNEST THING I'VE EVER DONE IN MY ENTIRE LIFE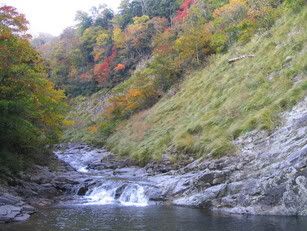 Seriously.
And I know fun. . .I've tried all sorts of fun things in my life. I've seen and heard incredible artists and musicians. I've been to many wonderful places. I've even filed my own taxes, but I have to say that "Shower Climbing" is by far the most fun thing I've ever done.
Seriously.
How does one climb a shower? you ask. Well, I'm so glad you did.
Shower climbing is like hiking, repelling, swimming, and river rafting all rolled into one. I went about a month ago, with my friend Lynette, and two of my Japanese teachers, Suzuki Sensei and Sakuma Sensei.
The first thing you have to do is put on two, very thick wetsuits, a pair of water shoes, an extra vest, a helmet, and a flap over your butt (that we'll get into later). This ensures that you stay warm, and that you look nice and fat. It's awesome.
You start out hiking along, and if you're me, you're wondering why you're wearing a helmet.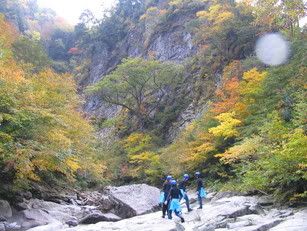 Meanwhile, the wonderful tourguide makes you wish you had been doing a better job studying your Japanese, so you could understand all the interesting facts he's sharing about the nature surrounding you.
For example, the fact that Japanese people think that this river looks like a mustache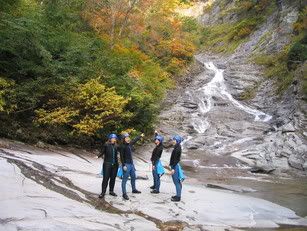 And that's why this place is named "Mount Sneezy" in Japanese
The next thing you know, you're walking THROUGH the river, rather than along it. Then you're climbing up along waterfalls feeling very thankful for your helmet and non-slip shoes.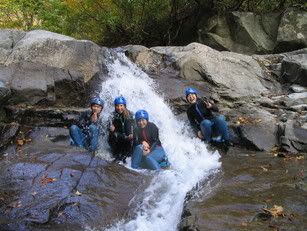 Here's Lynette passing under a waterfall. . .
There goes Suzuki Sensei. . .
I was a little less graceful than either of them. . .
my non-slip shoes slipped.
Remember the butt flaps?
Here we are getting ready to use them. . .
TO SLIDE DOWN THE RIVER!!!
Wild Rivers has nothing on Mt. Sneezy.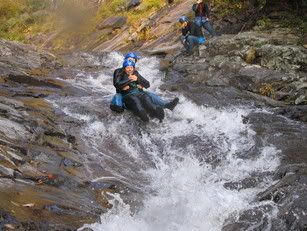 So much fun.


When the day was done, we were all exhausted, and all we wanted to do was get home.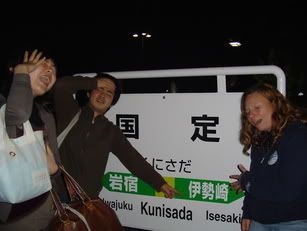 We were so tired that none of us noticed as we passed our stop, and ended up having to wait for what felt like forever to get going in the right direction again.

But I'd get lost a hundred times if that's what it took to go shower climbing (I'd probably get lost a hundred times anyways). Seriously. Shower climing is the funnest thing of all time.