Last, but most certainly not least
These are the last of my Matsushima photos. . .

On my first full day in Matsushima, I woke up early, without a plan.
On my way to the station, I saw this path, and I had to walk through it.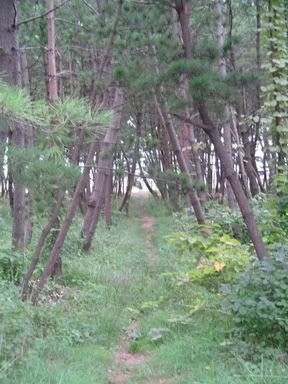 Wouldn't you?
This is what was at the other end. . .
Sometimes curiosity does pay off.
Only at a beach in Japan, would I not be surprised to find an abandoned rice cooker.
An early morning at the beach is the best way to start your day.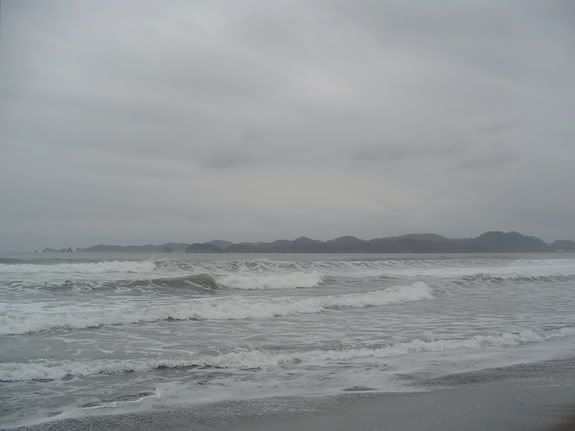 Later, I ran into my roommate from the hostel. Frauka (I doubt I spelled that right) is a retired English teacher from Germany. She looks like she's in her 60s (although I didn't ask) and she's traveling through Japan, alone, for six weeks (and I thought I was tough). She insisted on letting me borrow the bike she had rented, because she was done using it for the day.
So I took her bike and rode to the island of Okamustushima.
It was amazing.

The weather was nice and cool. It was just beginning to rain, when I set off for what I refer to as:

the SCARY HIKE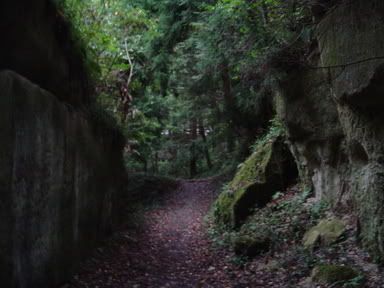 It felt like there was no one else on the island, and there definitely wasn't anyone else on this trail. . .Aside from the giant spiders, scary frogs, and a SNAKE. (Well, ok, it might not have been a snake, it could have been a really big worm. . .but, it WAS scary.) By the time I got halfway up the mountain, it had started raining. The sounds of the rain kept freaking me out, and every so often I would jump, or gasp out loud.
Along the way, I saw this little temple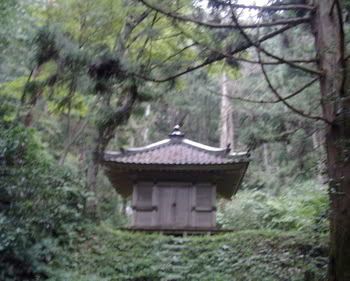 In the end it was worth it, because I ended up here. . .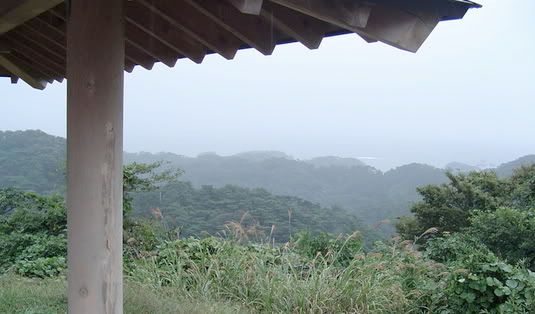 With this view. . .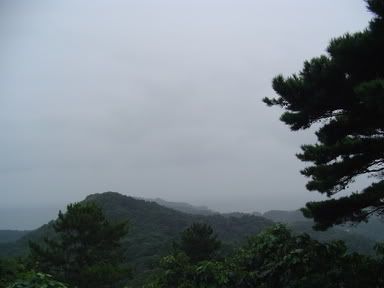 and this one. . .
Aaaaaaaah! Matsushima!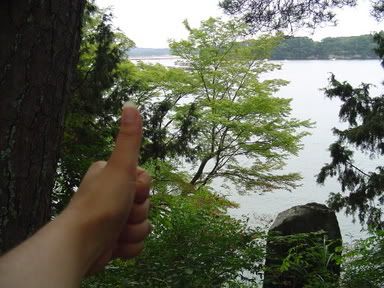 *PS: This has nothing to do with anything, but I thought you might like to know. . .as Katie, and anyone else that has ever slept in the same room with me can tell you, I talk in my sleep. The first night in the hostel, Frauka snored so much that I felt like I hardly slept. Apparently I did, because when we were getting ready in the morning, she told me that I had been talking in my sleep. . . IN JAPANESE! Now, if I only I could do that while I was awake. . .